The Italian Riviera, synonymous with Italy's Liguria region, is a crescent-shaped strip, sandwiched between France's Côte d'Azur and the Tuscan Coast. Its eastern half, the Riviera di Levante, is defined by rugged cliffs, turquoise waters, and pastel seaside towns, including the iconic hotspots of Portofino and Santa Margherita Ligure. To get you on the inside track, we spoke with our Italian expert Simonetta Sancristoforo Cattaneo della Volta, who has been coming to the area for decades.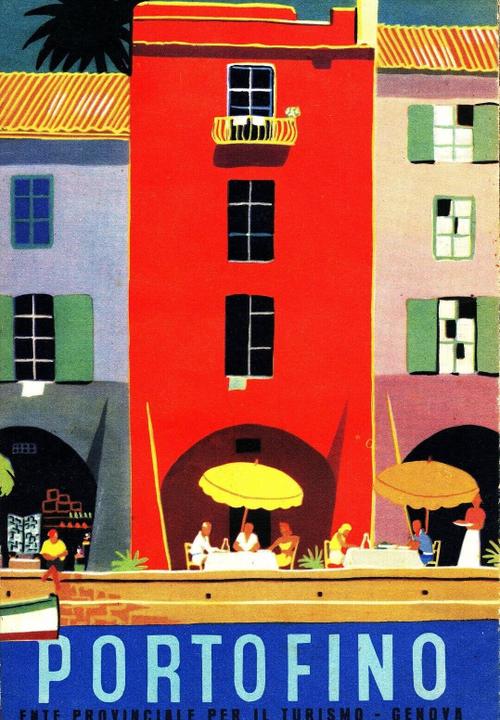 Portofino
Portofino is featured on many postal cards and the town itself is just as pictured: Boutiques, art galleries, cafes, and restaurants line the tiny streets. During summer months the small town can get a bit overcrowded, especially during weekends. Our favourite month to visit is September. Here are Simonetta's places to bookmark for now and later.
Where to Stay
Splendido Portofino - The Belmond Hotel is one of the most glamorous hotels in Italy and can't be missed. During summer months, the prices soar as high as temperatures in the Gulf of Tigullio.
Splendido Mare, A Belmond Hotel is the sister property of the Hotel Splendido, situated right in the heart of town, within walking distance to restaurants and cafes.
Where to Eat
La Taverna del Marinaio is my best price-quality place in Portofino.
Taverna Tripoli is a very typical Italian restaurant, the food is as good as the service.
DaV Mare from Gruppo Da Vittorio, a Michelin star restaurant in Bergamo.
Cracco Portofino is the new kid on the black and just opened last year. Worth to try this summer.
Batti is best for scampi alla batti - my favorite dish ever.
Where to Go for a Drink
Bar Morena on the famous Piazza right at the water. It can get a bit touristy on weekends.
Portofino Bistrot is a classic in town and good for Aperitivo.
Don't Miss
La Portofinese is a family-run eco-farm that offers unique experiences (including a one-table dining experience!) to discover a more authentic side of Portofino. Don't miss their lounge bar Il Faro di Portofino, located in a lighthouse overlooking the sea, the most incredible location for an Aperitivo at the entire Ligurian Coastline.
Paraggi
Where to Swim
Bagni Fiore beach club is the Belmond outpost, beautifully positioned.
Cova Paraggi, just opened by the famous Pasticceria in Milan.
Le Carillon is another great spot to try.
Where to Eat
Langosteria is my go-to lunch place in Paraggi. Super chic interiors and classic dishes right by the water. Reserve well in advance.
Santa Margherita Ligure
Where to Stay
Grand Hotel Miramare was one of the first Grand Hotels at the coast and still one of the best. Classic interiors, a great bar, and a lovely poolside.
Blu di Te is a cool boutique hotel in town with a beautiful roof top pool.
Where to Go for a Drink
Tortuga is my favourite place for Apertivo.
Where to Eat
DuCoq is a French Oyster Bar worth trying.
Capo Nord serves super-fresh seafood in a beautiful settting overlooking the Gulf of Tigullio.
L'altro Eden is only a few steps from the sea. They buy the fish directly from the fishing boats of Santa Margherita Ligure, every afternoon. Don't miss their scampi and prawn dishes.
Ristorante Da ö Battj is located on a hill overlooking the town and coastline. Try their scampi alla Battj.
A' crêuza du Giò Focacceria is the best place for Focaccia.
San Fruttuoso
Where to Eat
Da Giorgio offers the best views over the bay, the beach and the monastery of San Fruttuoso. Order the Frutti di Mare.
Da Laura in San Fruttuoso is a tiny restaurant with incredible food far away from posh Portofino and accessible pretty much only by boat. Order the Ligurian pesto on sheets of homemade lasagna.
Trattoria da Spadin in Punta Chiappa can only be reached on foot from San Rocco or by boat from Camogli. You sit right on the water and have a great view of the entire coast.
Chiavari and Sestri Levante
Chiavari and Sestri Levante are lesser known but very very beautiful. Don't miss Baia del Silenzio in Sestri Levante, it's wonderful.
Where to Stay
Villa Riviera is surrounded by a 15,000 square meter park and features 15 rooms, two restaurants, and an outdoor spa with a stunning infinity pool overlooking the Ligurian Sea.
Where to Eat
Duo in Chiavari is housed in an ancient Palazzo and serves modern cuisine.
Impronta d'Acqua was awarded a Michelin star.
Da Felice in Chiavari, serves seafood specialties, it is also a hotel.
Portobello sits right at the waterfront in Sestri Levante, great for seafood.
Ristorante Baia del Silenzio offers a beautiful ambiance right at the water in Sestri Levante. They offer a tasting menu at a reasonable price.
Rezzano Cucina e Vino is one of the best restaurants on the coast. Excellent cuisine and wines, Sestri Levante.
Aria offers a stunning sea view terrace and gourmet fish dishes in a romantic setting.
Where to Swim