"I've lived in London for 20 years. I love how vibrant, diverse, constantly evolving — and green it is. I'm based in east London with my husband and our ten-month-old identical twin boys, in a Georgian townhouse on the cusp of greenery. The neighbourhood feels like living in a Mary Poppings film. It's a hidden corner of old east London where it feels like time has stood still. When we come back after being away, we normally cook up a feast. There's something so comforting about cooking and having a homemade meal — ordinarily with a heap of spice, depending on where we've been.'
Eating & Drinking
Where do you go for a morning coffee?
"Pophams in Victoria Park village. I always nab a sunny spot outside — it's small, so this is my only option with a double buggy! The bacon maple swirl is my go-to. They also sell their crockery, so I often leave with something new for the kitchen too."
What about breakfast with the whole family at the weekend?
"Pavilion in Victoria Park. We sit overlooking the boating lake and alternate between the chocolate almond croissant (the best in town) and the Sri Lankan breakfast. They also serve Happy Endings soft serve ice creams, which are a total treat and usually an obscure flavor."
And if you want to linger or people watch?
"I often head back to Wilton Way (I lived on the street for almost ten years). I love the Wilton Way Deli and wine shop there, there's such a community vibe and it's perfect for bumping into friends. Violet Cakes is on the same street, and it serves incredible quiches and the best cupcakes. If the mood takes us, we'll dip into our old local The Spurstowe, or The George, for a pint or wine. This street really does have it all."
Where do you go for a long lunch with friends?
"Royal China for old-school Chinese and dim sum. Think flock wallpaper and abundant lazy susans."
Do you have a favorite local pub?
"It's a tough call between The Spurstowe on Wilton Way and The Royal Oak on Columbia Road for Saturday lunch with a glass of wine or two."
If you wanted to meet a friend in a bar, where would you choose?
"I love the bar at Chiltern Firehouse, the décor is so on point and cozy for a pre-evening drink.
At lunchtime, the booths at the front of The Wolseley cannot be bettered."
And for an occasion?
"The Connaught, that martini trolley is my idea of heaven. All special occasions are spent here!"
What about a date?
Bistrotheque for brunch or dinner. We've been going there forever and it's still as charming as it ever was."
Where do you like to go for dinner with friends?
"Brat Climpson's Arch. I love how informal it is and yet how roomy and totally delicious it is. We can never get enough of this place. Mountain is its newly opened sister restaurant in Soho, which also does incredible food."
And finally, for a nightcap?
"Satan's Whiskers in Bethnal Green. It has speakeasy vibes, but some of the most imaginative and inventive cocktails I've tasted. Paired with a dirty burger."
Shopping
Do you have a favorite local deli?
"I spend hours —and probably a small fortune— at The Deli Downstairs in Victoria Park. It has such a great mix of produce, always has interesting new products and its cheese selection constantly coming back for more."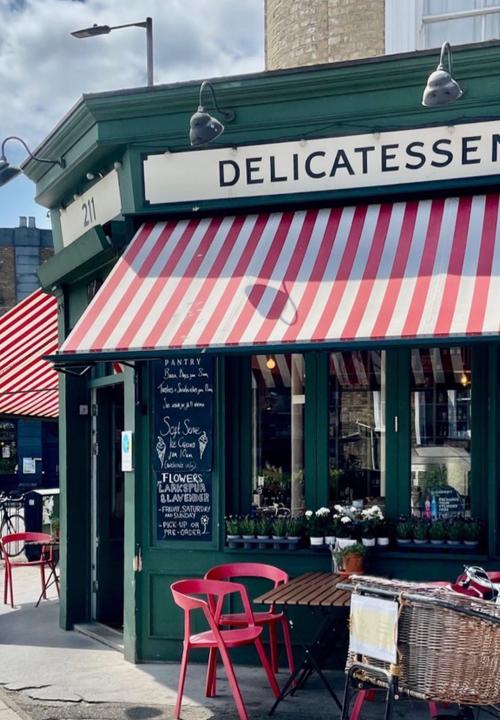 Where do you buy wine?
"There's a great natural wine bar at the back of Netil Market, called Wignut Wines, where you can sample organic wine by the glass."
What about food markets?
"We often do the east London rounds come the weekend. On Saturday, we go to Broadway Market, and Netil Market for the best falafel and pita at Pockets. On Sunday, we pick up groceries and wander around Victoria Park Farmers Market and its food stalls. We always attempt to try something new. Later, I'll cook something hearty and we'll all sit down for lunch."
Any favorite boutiques or stores for clothes?
"Browns and Matches always have a great selection of clothes, I've constantly got a wishlist on the go for both. Dover Street Market is a must-visit and is a brilliantly curated multi-brand store."
And homeware?
"Popham's Home champions some great local and independent potters and offers a great selection of homewares and artwork."
What to Do & See
Do you have London walks that you always like to do?
"I'm always a fan of walking down to Borough Market and onto the South Bank. I also love walking through the City at the weekend because it's totally deserted. To walk through centuries-old buildings next to modern steel and glass feels very unique to London — it's a special place to be.
Favorite London gallery?
"The Royal Academy. We just saw the Marina Abramović exhibition and it was incredible. I would absolutely recommend it."
Museums?
"The V&A or Natural History Museum are both must visits."
What about a live music venue?
"We are lucky to have some amazing arches in east London that host up-and-coming artists. You need to have your ear to the ground though, and be ready at about 6 hours' notice!"
Is there anything touristy that you think is actually worth doing?
"Borough Market — but go on a Thursday or Friday to avoid the madness of the weekend. It will still be busy but you'll be able to move at least. There's a stall called Da Calabria, which only sells Calabrian produce, where I stock up on extra virgin olive oil, Peperoncino Santo, and their 'sunratomato' — a sundried tomato and herb concoction that we're addicted to and goes on everything from salads to stews.
And your go-to day trip from London into the countryside?
The Cotswolds is a must for great pubs and picturesque greenery: The Chequers for Sunday lunch, The Wild Rabbit for exceptional food, and The Bell at Langford for open fires and great food.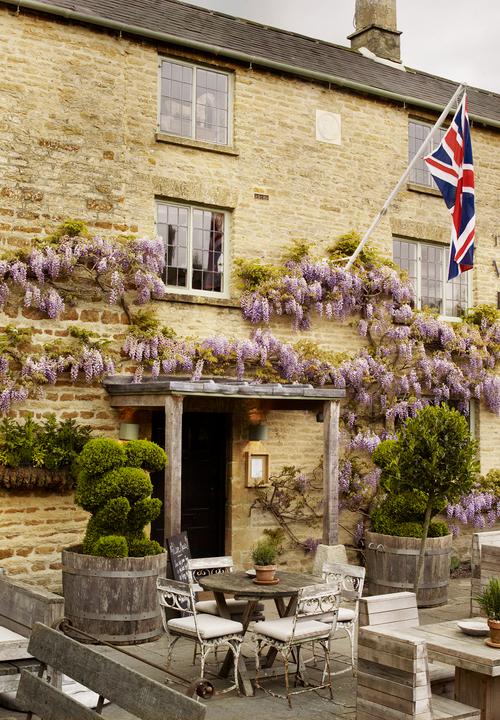 Where to Stay
If they're not staying with you, where do you recommend friends stay in London?
"I love The Nomad. It's in Covent Garden, so really central, and has great interiors. The main restaurant is perfect for a special occasion, or Side Hustle for low-key beers and great tacos. For something more intimate, the Zetter Townhouse in Clerkenwell is great — low-key but still special.
And for a night or two away from the city?
"Broadstairs or Margate. The newly opened No 42 from Guesthouse Hotels is a great place to stay in Margate. A bit further away is Bruton, which we love. Eat at Osip, visit Hauser & Wirth, and stay at The Newt. Or The Bradley Hare."