Shrouded in myth and legend, Ponza is making quiet waves in the Mediterranean and luring a particular kind of traveler, who values simplicity and authenticity over luxury and convenience. As soon as you arrive into its crescent-shaped harbor, you feel a slowness descend. The scene is idyllic, with pastel fisherman's houses lining the waterfront and painted in assorted shades so that they could find their way home after months at sea. The harbor is a quiet hive of activity and you have the sense of the Ponzese carrying on life as they have for centuries.
It is the island where Odysseus is said to have been waylaid on his epic journey home to Ithaca, seduced by Circe, the goddess banished to this volcanic rock of an island by her father, the sun god Helios.
Low-key with little traffic and next to no flashiness, Ponza's rhythms are wonderfully slow and untroubled by crowds, noisy beach clubs and five star resorts. A perfect slice of la dolce far niente, read on for my guide to this idyllic little island.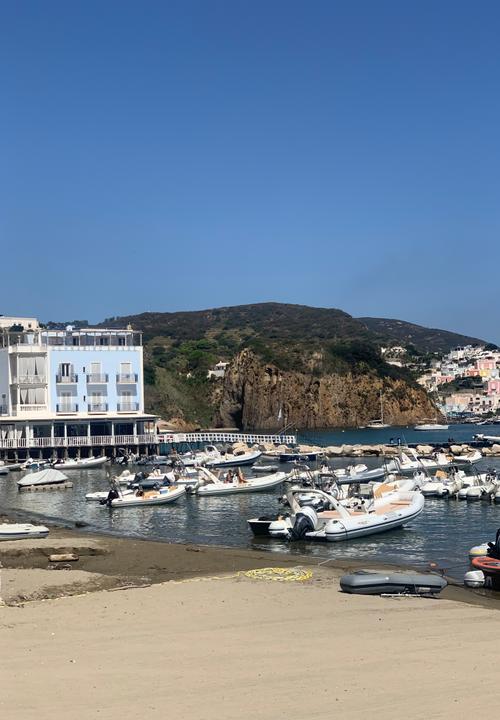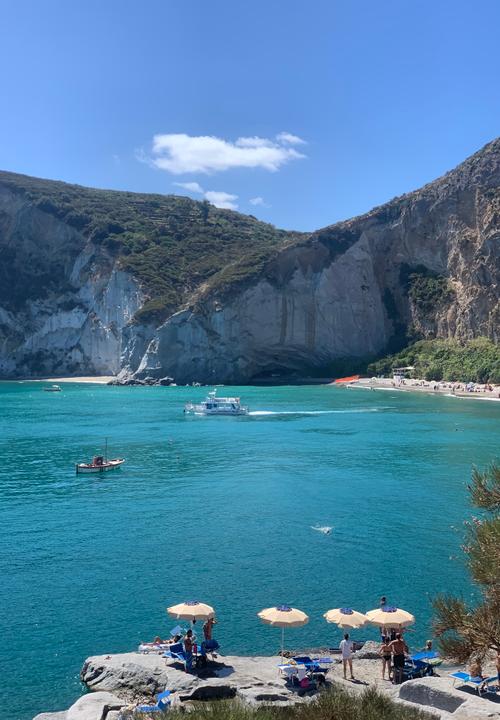 Where to Stay
'Easily the best address on Ponza, you reach Casa Fontana on foot, climbing the smooth stone steps up from the harbor. With a brilliant white exterior and one hundred shades of blue in its eclectic blue interior, this four-bedroom villa is filled with various treasures, curiosities, and pieces of art and sculpture. But it's the views that make Casa Fontana exceptional. Standing sentry-like on a rocky promontory, it has panoramic views of the sparkling Tyrrhenian Sea from all windows and corners of the garden. The house comes with a brilliant cook, Fiorina, who will pick up fresh market catch and fresh pasta to be served on the beautiful terrace, after aperitivo in the garden.
When you're not hanging out in the garden hammock or plunging into the small, circular pool, Casa Fontana is perfectly positioned to visit nearby beaches, lunch spots and to make your evening passeggiata.'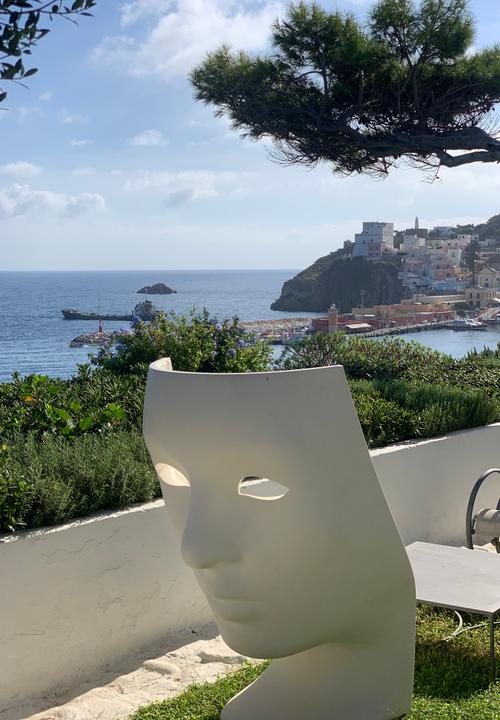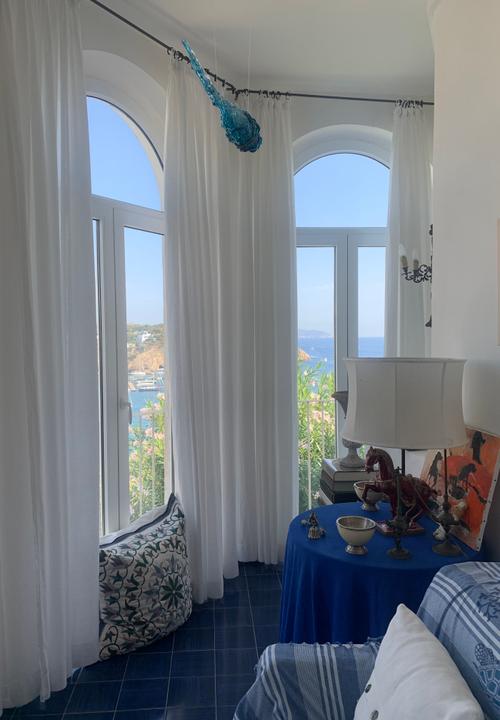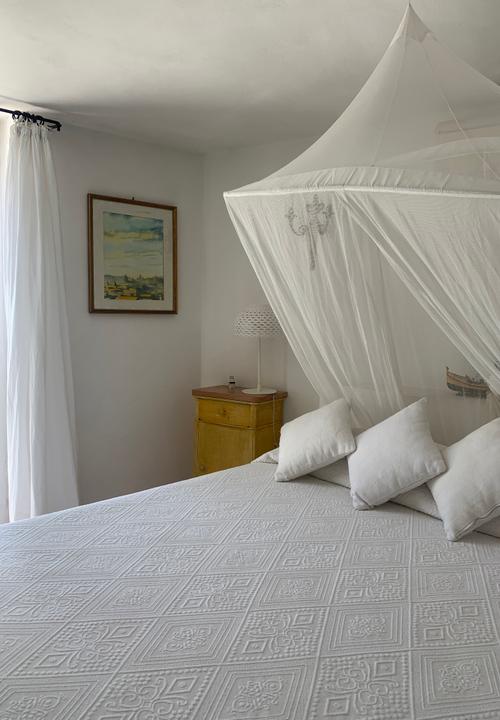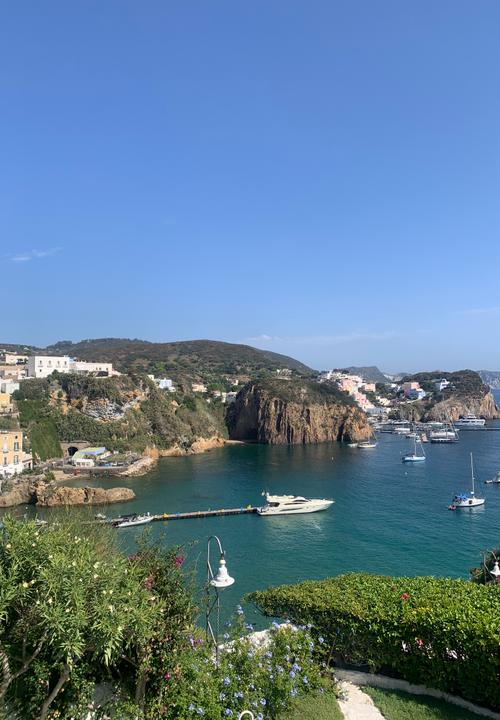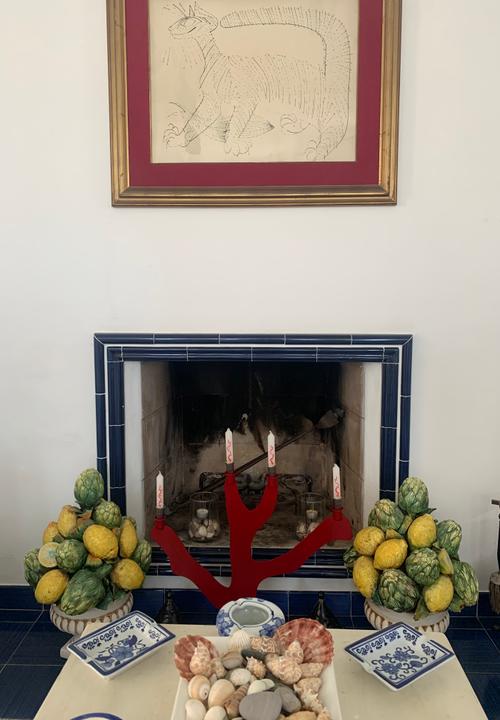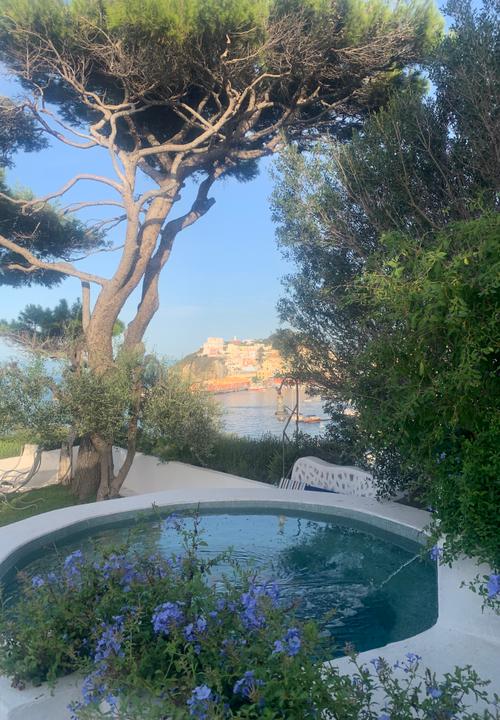 Where to Eat & Drink
Morning coffee…
'Walk down to the waterfront in the morning to this charming, traditional cafe for your coffee-to-go, alongside a Ponseze specialty aragostine — meaning 'little lobster' in Italian.'
Casual lunches by the sea…
Da Enzo al Frontone
'My favorite spot on Ponza by a mile, I could have eaten here every lunchtime. Run by the mischievous Enzo, it's a rustic, sun-dappled spot hidden behind the rocks. Order cold glasses of Vermentino and feast on its daily changing menu or dishes such as fresh anchovies, bruschetta and squid. It's perfect combined with a day splashing around at Spiaggia Frontone.'
La Marina
'Another highlight was La Marina by Cala Feola. Another laid-back trattoria right on the rocks with blue tables and chairs and a rambunctious atmosphere. Start with a drink on the tables outside by the sea, watching local kids dive and bomb into the water, before moving in for colorful platters of spaghetti al vongole.'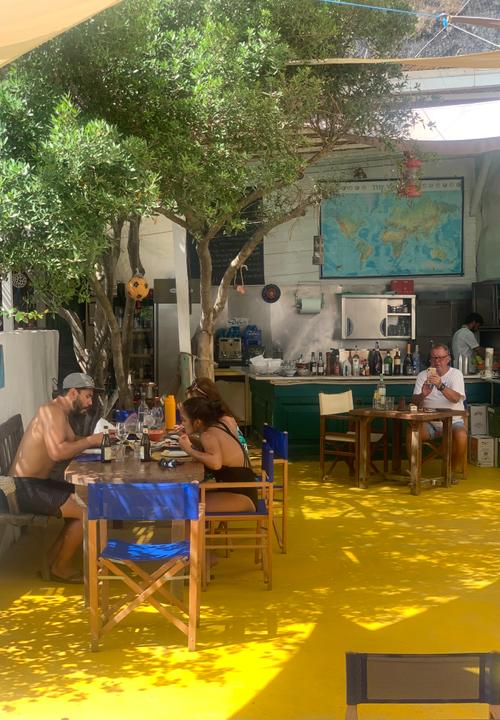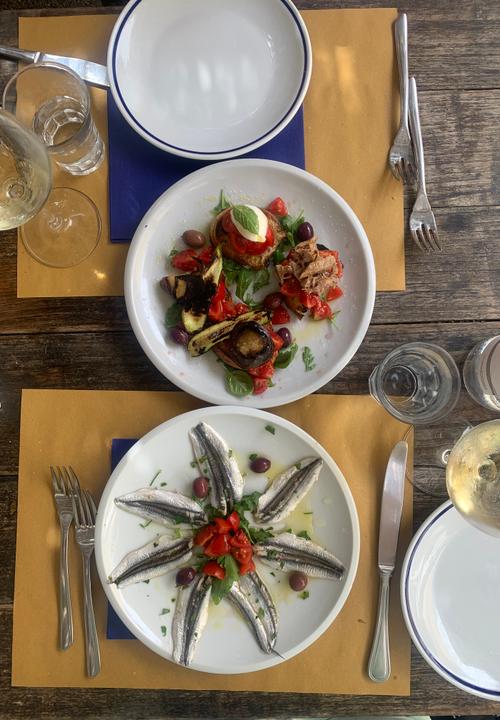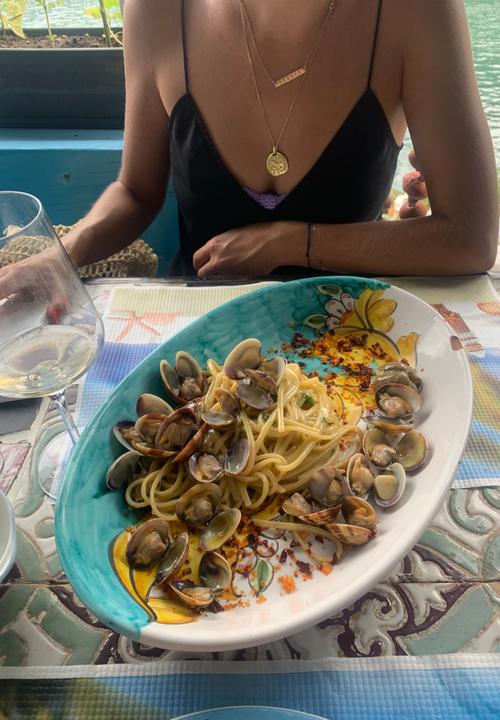 For sundowners…
Bar Tripoli
'After a day at the beach, make your way back down from Casa Fontana to the harbourfront and stop in Bar Tripoli. Order a couple of spritzes — soaked up with slabs of margherita from the bakery next door — and watch as the locals make their daily passeggiata.'
For a fancy dinner out…
Acqua Pazza
'This Michelin-starred fish restaurant has a beautiful setting on the far side of the harbor, where you can eat on the terrace and gawp at the view as well as the prettily presented food. Drink Fieno di Ponza, the local wine, and share dishes such as linguine with prawns, crudo and cooked.'
What to Do
Boat days
'The best way to experience Ponza is by sea, so hire a traditional gozzo boat for the day, sailing around the whole island and stopping in deserted coves and sapphire blue grottos to swim. Stock up on arancini and pizza from the harbor before you set off for a picnic lunch.'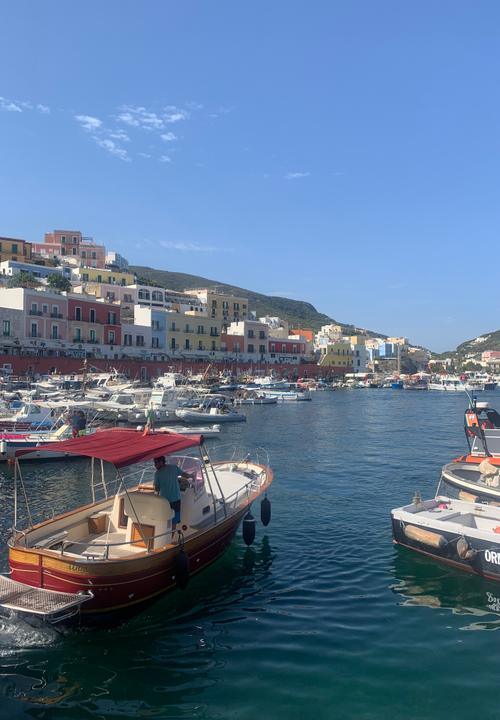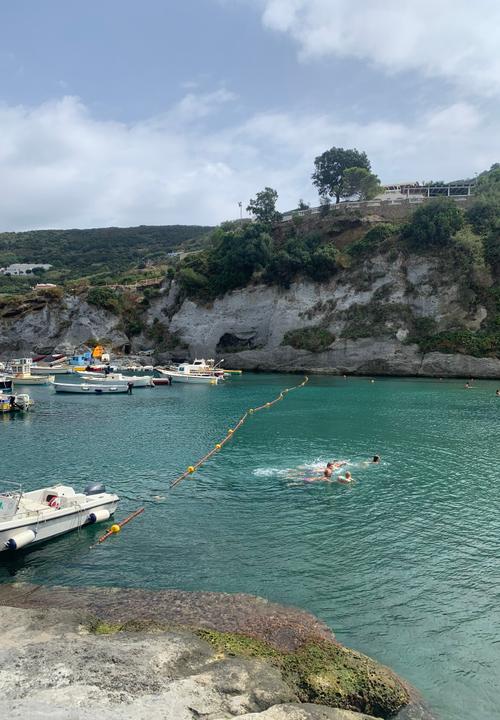 Swimming
'The water in Ponza is something else, and all the places I loved the most for swimming were patches of rock. Take the ferry from the harbor to Spiaggia Frontone and walk around to the left where you can rent sunbeds and dive straight into the water. Or, jump into a taxi to visit both Cala Feola (and Piscine Naturali) and Cala Fonte.
Visit Palmarola
'Take a boat to the neighboring island of Palmarola, which is even smaller than Ponza, taking refreshing dips and having lunch at its only restaurant, O'Francese.
Wine tasting
'If you get a taste for the local wine, Fieno di Ponza, go for a tasting at Antiche Cantine Migliaccio.'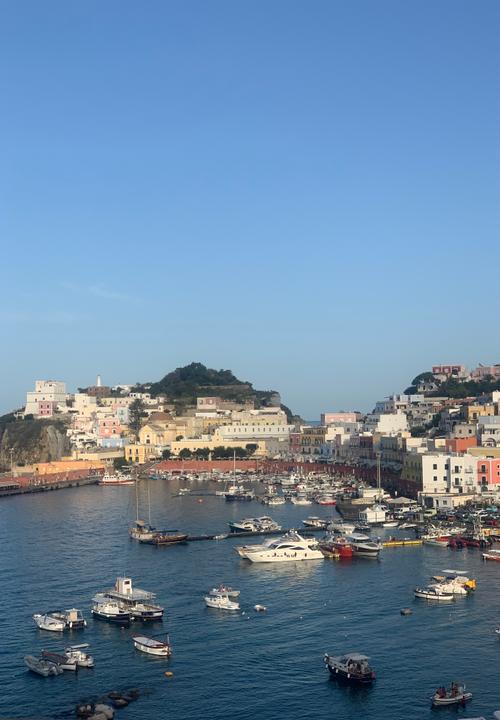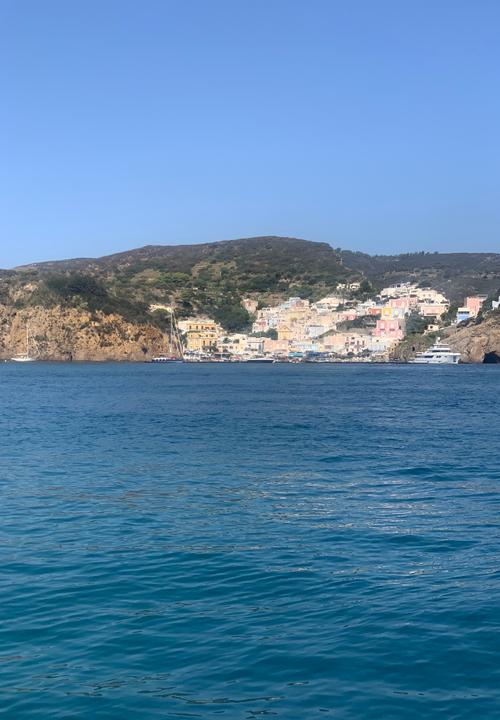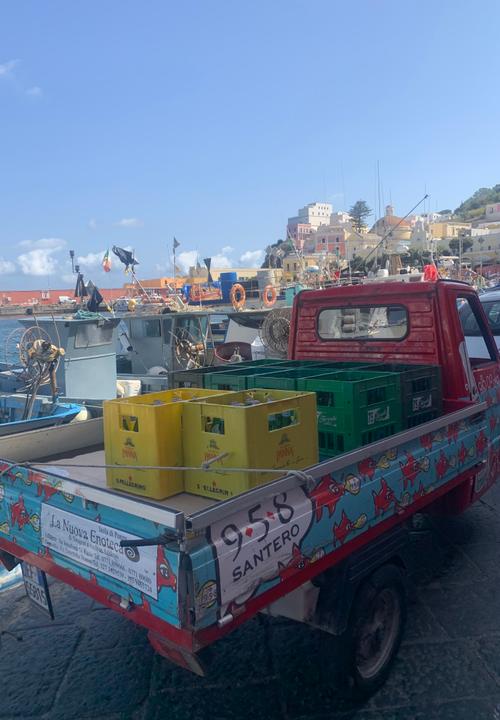 Getting Around
You don't need a car on Ponza, the island is only 9 km from top to bottom. You can get around either by walking (which is why we recommend staying in or near the harbor), by ferry taxi, by boat or by taxi.
When to Go
Visit in June or September for beautiful weather, without the peak season crowds.
How to Get There
You can reach Ponza easily from Rome or Naples. Take a private speedboat or the hydrofoil from Anzio.