A Guide To Menorca
Wonderfully unspoilt with ancient farmland and verdant hillsides, virgin beaches and pretty towns, Menorca is the hidden jewel of the Balearic Islands. A rich archeological heritage and fierce traditions combine with a slow, calm pace of life that bewitch those that visit — especially in the off season. Here, Kate Lough shares her guide to the magical island.
Where to Stay
The first hotel opening from the family-owned Vestige group, Son Vell signals a new chapter for the island. A lovingly restored 18th century Italianate manor near Ciutadella on the south coast, the hotel is built from a burnt toffee stone that glows in the early evening light. An old avenue leads down to Cala Son Vells, where you can swim alone in the early morning, and meets the Cami de Cavalls, an ancient rocky path. It's a place that feels beautifully connected to its land — it's a working farm after all — with a distinct sense of place that roots you firmly in Menorca. Beyond the pretty gardens and ornate, oblong pool, its surroundings are peppered with barracas, stone cattle shelters, that pop up like beehives or layered cakes. The Main House has a smattering of elegant rooms, while the rest are found in spacious outbuildings with roomy terraces and spa-like baths. Son Vell's team are on hand to arrange authentic experiences nearby, from horse-riding to Jeep safaris (more below).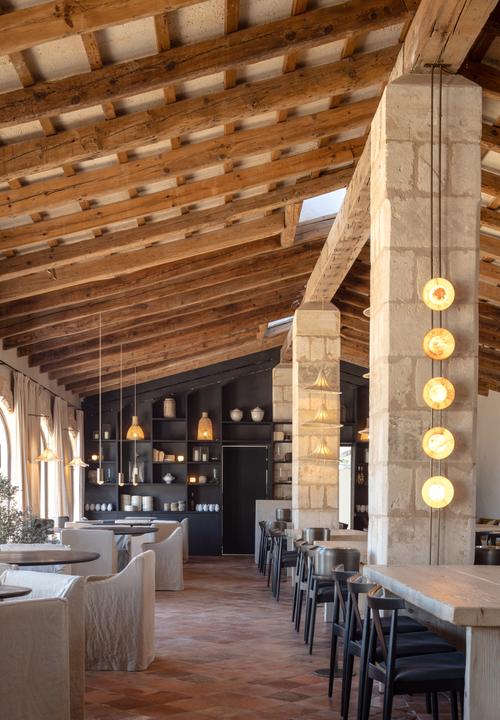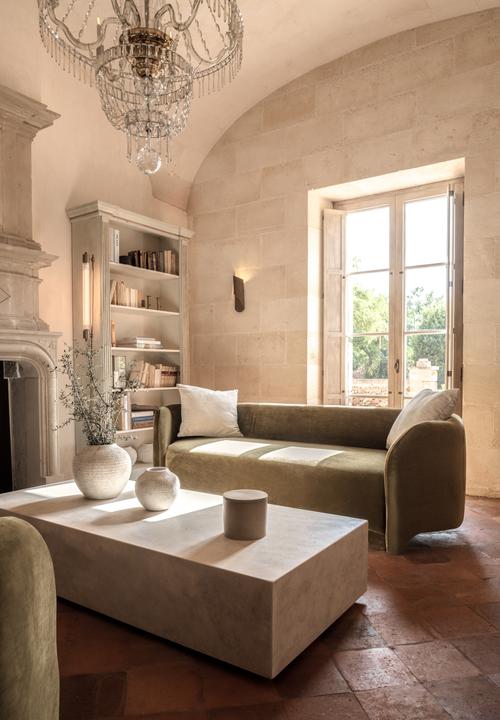 Menorca Experimental opened a few years earlier than Son Vell and is perfect for young couples looking for more of a buzz with a vibey pool soundtracked by disco and jazz, and a restaurant that brings in a fun mix of island guests. A whitewashed 19th-century finca, its Dorothée Meilichzon-designed interiors nod to surrealists such as Dali with LRNCE blankets and ceramics. We prefer the rooms outside of the main finca, especially those with private terraces and dipping pools. Outside, the lengthy infinity pool (get up early to enjoy solo laps) enjoys the all-day sun and is bordered with comfy double-day beds, plus has its casual restaurant and bar. If you want a sea dip, take the Cami de Cavallas path down to the virgin beach below.
Where To Eat & Drink
Son Vell
Son Vell has two restaurants: the more relaxed Sa Clarissa for lunch and the fancier Vermell for evenings. At the former, sit under the dappled shade and tuck into a tapas-style feast of Jamon Iberico, croquetas, roasted aubergine and lobster rice. Vemell's elevated menu flits between land and sea to offer light tartares, watermelon gazpacho, Menorquina sirloin and caldereta. On certain nights, these elegant dinners are soundtracked by live jazz or guitar for an extra dose of magic.
S'Amarador
Sitting pretty in Ciutadella port, S'Amarador is considered one of the best restaurants on the island, so book ahead. Sit waterside or in the pretty courtyard and order what it's known for: seafood. Start with red prawn croquetas and share steaming bowls of 'fisherman's rice' served in traditional pans. Washed down, of course, with the local Menorcan white, Binifadet.
Nonna Bazaar
A farm-to-fork gastronomic experience, Nonna Bazaar is set just outside Ciutadella on a 400-acre working farm. Part restaurant, part events venue and part farm shop, it's a dynamic spot to book in for lunch or dinner — just leave time to check out its boutique.
Menorca Experimental
The outdoor terrace restaurant by the main finca is the place to be on balmy evenings. Have a G&T or a glass of Cava at the tiny bar while you wait for your table, then make your way through the delicious menu: the red prawn aguachile and pluma Moorish skewer get our vote.
Cantina at Hauser & Wirth
When Hauser & Wirth opened a new arts center on a tiny islet in Mahon Harbor, Isla del Rei, it was another sign that Menorca was on the up. As is tradition, the cultural spaces are joined by a fantastic 'sea bistro', Cantina, where diners sit under the shade of olive trees and look out over the water. Sharing plates of veg, seafood, fish, and grilled meats are accompanied by local wines from H&W's own vineyard on Menorca, while it often hosts pop-up chef residencies too. During our visit, a tasting menu included a lobster stew and a standout octopus brioche 'hotdog' with onions and mustard.
Pigalle
A cute French-style bakery in Mahon old town, Pigalle is the place to fuel up with fresh pastries and bread before a day exploring the capital.
Oysters Menorca
Nearby, you'll find this diminutive oyster shop and bar that has a brilliant wine list, too. Go for a pre-dinner sharpener.
Shopping
Cafe Central, Ciutadella
Near the old cathedral in Ciutadella, you'll find this super chic tea salon, cafe, and boutique by creative tastemaker Mónica Colomar. Go for a coffee or tea, and stay for its tight edit of scents, jewelry, woven hats, and dresses.
Dorian Caffot de Fawes, Mahon
Sister to the London showroom, Dorian Caffot de Fawes is an antique and decorative arts gallery in Mahon's old town. Run by Dorian's sister Isolde, it's a treasure trove of pieces from all over Europe across different styles and periods. A must for interior designers and collectors.
Ca s'Esparter, Mahon
Open since 1815, this is one of the oldest workshops in Menorca and is run by the sixth generation of its founding family. Historically significant, it's also a great spot to pick up traditional Menorcan leather sandals and espadrilles.
What to Do
Swimming
Menorca has more than its fair share of unspoilt, virgin beaches and tiny, rocky calas. Our favorite places to swim were Cala Son Vell, a 15-minute walk or quick cycle from the hotel where you would often be alone; or the even emptier Cala Llucari, a 20-minute hike down from the Experimental. For a little more life, Macarella and its little sister, Macarelleta, are both wildly beautiful with aquamarine water that dazzles. Drop in for lunch at the very casual, family-run Suzy for boquerones, and gambas and fries.
Walking & Horse Riding
One of the most unique things about Menorca is the Cami de Cavalls, the ancient path that curves around the whole island that local knights used to thunder around, protecting against pirates. Helping to preserve the beauty of the island's coastline, it is also a wonderful way to see Menorca — whether on foot or on horseback.
Llaut Days
As with most islands, it's always a good idea to see Menorca from the water. Hire a llaut, a traditional wooden boat that you find across the Balearics, starting in the north at Es Fornells, if the weather allows. The landscape and geology is so different from the south, so it's a must.
Jeep Safari
To get to know Menorca is to get to know its interior. Studded with old farms and whitewashed fincas, it is also home to many archaeological heritage sites. Book onto a Jeep Safari, and your expert guide will whisk you from Talayotic towers to Bronze Age stone dwellings, canyons to quarries. You can also request to drop in at Son Mercer de Baix, a family farm and artisan Menorquin cheesemaker for a tasting
What to See
Visit Ciutadella and Mahon
Both the port cities of Ciutadella and Mahon are worth exploring. Ciutadella is the smaller, and prettier of the two with its car-free medieval streets, old palaces of noble families, and a 14th-century cathedral. Head into town in the early evening, for a pre-dinner wander and have a nose around its historic buildings and smart boutiques ahead of dinner. If you visit earlier in the day, be sure to visit the fish market.
Mahon, the world's second-largest natural port, is also a sight to behold. Walk along its expansive waterfront, pop across to Hauser & Wirth, and zig-zag around its old quarter, dipping into galleries, vermouth bars, and shops.
Hauser & Wirth Menorca
Reached by its distinctive yellow boat or private water taxi, Hauser & Wirth Menorca combines Piet Oudolf gardens, exhibition spaces, and performances in dialogue with the art — think flamenco through the gallery spaces — events and education that try to connect to their local environment and community. During our visit, there was an excellent exhibition of experimental artist Christina Quarles who plays with pattern and texture to exquisite effect.
When to Go
Even though Menorca is quieter than its Balearic siblings, Ibiza and Mallorca, it can still feel crowded in the peak summer months. The shoulder months, however, are perfect —especially in May and October, when the temperatures are divine but the visitors are few.
Kate Lough is a freelance editor and writer. Follow her on @kateloughtravel for more inspiration.