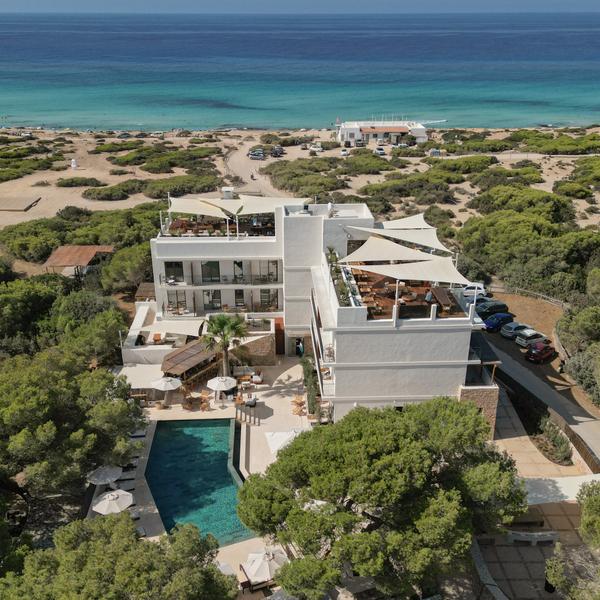 Formentera, Balearic Islands, Spain
Teranka
Teranka is a new sanctuary, set on a protected, beachside estate, on the magical island of Formentera. Full of light and enriched with contemporary art, the 35 rooms and suites in the three buildings Mar, Tierra and Cielo, radiate a refined simplicity that is the essence of Formentera.
Check availability
hotel Guide
Facilities
Light-filled and subtly decorated, Teranka's 35 rooms and suites are distributed among three distinctive buildings – Mar, Tierra, and Cielo – and radiate Formentera's essence: discreet, calming, and inspiring.
Included in all rooms: King-size bed, shower, minibar, Nespresso coffee machine, local bathroom amenities, hair dryer, Wi-Fi, Bluetooth speakers upon request, Sound Meditation app, OPO.
What's the Story
Maintaining its original, handmade drystone structure and pared-back interiors, Teranka uses local materials to reflect the island's heritage and color palette. The private art collection has been curated by Katrina Philips alongside owner Jennica Arazi and we would highlight the following, perhaps you could edit for length: Largely female-led, the work of our artists respects the maternal lineage of Formentera and harnesses the island's intuitive, protective energy. Teranka's artworks use natural and found materials along with local artisanal techniques such as weaving and ceramics to create deep links between the island's physical heritage – fishing, farming, foraging - and its esoteric one – the punks, poets, and pirates who've washed up on Formentera's shores.
Wellness & Spa
Two intimate treatment rooms are located in the MAR building, perfect for experiencing relaxing and revitalizing rituals using oils from the island.
Open-air gym with personal trainers available upon demand.
Meditation and yoga studio.
Retreats: Throughout the season, Teranka partners with some of the Balearic's leading wellbeing experts for retreats and one-off sessions.
Sea-facing, outdoor yoga deck; a weekly program of group-led well-being experiences, including sunset meditation rituals, sunrise yoga, Stargazing Evenings, and island hikes; and finally, exclusive access to the in-room Sound Meditation app with OPO.
Wine & Dine
Teranka's culinary offering gives guests a chance to flow throughout the hotel, with a ground floor and garden restaurant, and a spectacular rooftop bar, topped with friendly service at the pool and in the room.
Located on the ground floor there is Teranka Garden, The sand garden restaurant takes a cue from Teranka's signature elements - land, sea, and air, to offer a varied menu of fresh island staples with hints of Middle Eastern flavors.
One of the best ways to enjoy Mig Jorn Beach is by visiting Teranka Rooftop. No tapas or sushi, they are raw dishes, ceviches, and signature cocktails
Teranka's in-room dining menu offers a selection of options throughout the day.
Sustainability
The hotel has its own water filtration system, and all water used is filtered and reused for irrigation. They also avoid using single-use plastics and strive to use sustainable, local, and reusable materials whenever possible.
Collaboration with a local partner, IbizaPreservation with a discretionary 1€ donation from every stay, to support their plastic-free and Posidonia protection programs.
Dresscode
Pack your Espradilles, and lots of linen, and your Balearic summer can start.
Budget
Rates start at EUR. 390 per night including taxes and fees.

Extend your Teranka Formentera stay, with a '4 nights for 3' offer. Book the promotion here
Local Guide
Location & Setting
Teranka is located on the southern part of the island of Formentera, on the picturesque Playa Mig jorn, one of the most untouched at a 6km stretch. Views of a lush pine canopy, La Mola – Formentera's highest point – and the turquoise-cobalt blue waters of the Mediterranean set the backdrop
Activities
Guided cycling and hiking routes, horse riding, water sports, private yoga, Pilates and meditation sessions, group retreats, and resident experts.
When to go
Season starts after Easter and lasts until October. Visit in May, June or September. July & August are peak times in Formentera.
How to get there
Despite not having an airport, Formentera is surprisingly easy to reach. Fly into Ibiza Airport, then hop on a taxi for a 20-minute drive to the port of Ibiza. From there, it's a 30-minute ferry transfer from Ibiza to Formentera's port of La Savina.
The hotel is accessible by sea, whether by private charter or by ferry from neighbouring Ibiza, and Barcelona and Denia on mainland Spain. Once on the island, it is a short journey to Teranka by private transfer.
Check availability
Teranka