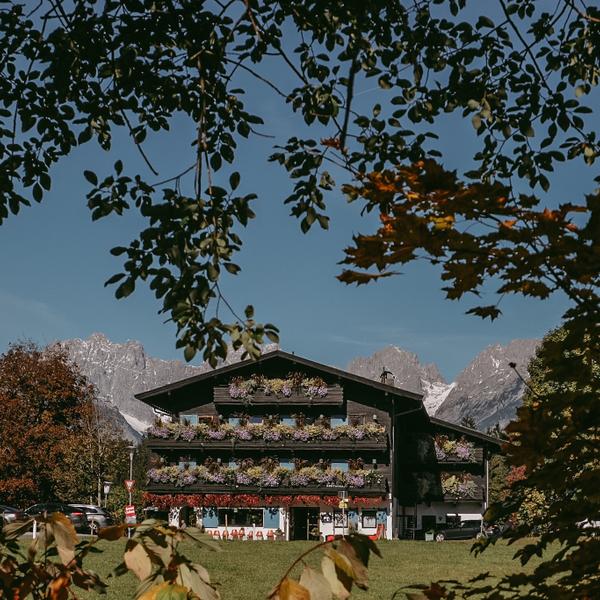 Kitzbühel, Tyrol, Austria
Seebichl
Seebichl is a striking coal-black house, perched on the hill above Lake Schwarzsee, only a short stroll to the center of town. With an atmosphere evoking memories of a rambling summer home up in the mountains, yet, Seebichl creates the most comfortable home away from home, indoors and around the property. This is Alpine living, in the most creative and cosy sense imaginable.
Check availability
hotel Guide
Facilities
26 rooms, featuring handmade designer furniture, fresh mountain air, and a wooden balcony with an epic view.
Terrace with garden overlooking the Tyrolean mountains.
Stone pine sauna with garden and outdoor bath tubs.
You can rent bikes on the property.
Private on-site parking.
Wine & Dine
Breakfast: Kitzbühel's most exceptional local breakfast is served at the Seebichl. All ingredients are exclusively handmade by local suppliers. Master-butcher Fuchs produces ham and sausages - the best in Kitzbühel. The crispy bread is baked by Neumayr from nearby Aurach. Yoghurt, milk and cheese are supplied by local farmers, pickled fish come from cold mountain spring water, jams and compotes are homemade, loose teas are supplied by Demmer teahouse in Vienna and J. HORNIG provides the coffee.
Green bar, with homemade drinks & tonics
Dinner: Try their renowned rib-eye tagliata and soufflé.
Dresscode
Budget
Rates start at EUR. 200 per night including breakfast.
Local Guide
Location & Setting
The hotel offers a shuttle service to the slopes or the town centre (5 minutes by car).
Lake Schwarzsee (5 minutes' walk from the hotel) is an absolute favourite place and insider destination – great for swimming in the warmer months or a sundowner.
Ask the Owner's
The Witzmann brothers will be more than happy to advise you on what's hot, what's happening and what's delicious in the nearby area, that is, if you're a Kitzbühel newbie.
Summer Activities
Spend a sun-drenched summer's day at one of the lakeside beaches or take an exhilarating bike tour with one of the KONA bikes.
Hiking: Numerous tracks start right in front of your door.
Winter Activities
From Kitzbühel's Hahnenkamm to the Resterkogel, the 233 km of ski runs have won several awards in recent years. KitzSki is accessible via 11 feeder lifts. On the wide pistes and thrilling race courses, as well as at the snowparks, everyone will encounter the ideal conditions for a successful day of skiing. 57 cable cars and lifts will allow you to get up high in the 575 hectare ski resort. But Kitz offers also a variety of other winter sports, from hiking to cross-country skiing.
A private ski shuttle departs from directly outside Seebichl, taking guests to the gondola in five minutes – absolutely free of charge!
Local Restaurants
Dine at their awarded à la carte restaurant Seebichl in the hotel.
Hutschpferd is their other restaurant and famous for its excellent Schnitzel. Located in the town center. Obere Gänsbachgasse 8.
Seidalm is a legendary alpine hut situated right at the most famous ski downhill course worldwide. It has reached world fame not only due to Hansi Hinterseer (one of the most famous people in Kitzbühel) growing up there. It was the cradle of the Ski World Cup in 1968.
Shopping
Frauenschuh, Josef-Herold-Straße 13-15, 6370 Kitzbühel.
For him: Helmut Eder, Sterzinger Platz 3, Kitzbühel.
Kitz Insider Guide
How to Get There
Munich airport is approx. 2 hours drive. Or fly into Salzburg which is only an hour by car.
Nearest train station is Kitzbühel, a 10 min drive away.
Check availability
Seebichl