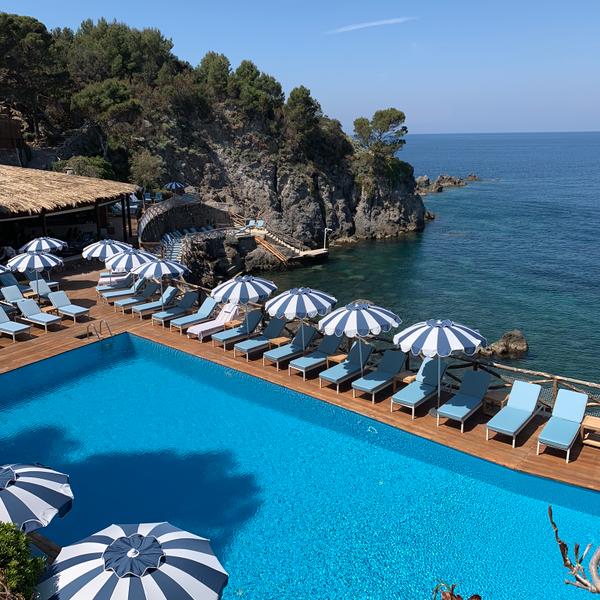 Ischia, Italy
Mezzatorre Hotel & Thermal Spa
The Amalfi Coast and its surrounding islands have long been the epitome of Mediterranean glamour, but it's the unassuming island of Ischia that we have on our radar this summer. After all, it's where Marie-Louise Scio chose to open her latest hotel, Mezzatore. Set among the ruins of a 16th-century watchtower, this sun-bleached terracotta beauty is surrounded by forest and perches on the northwestern part of the island. It's so lovely, that you could easily not leave, drifting from its famed breakfast, to poolside to dips in the sparkling sea just below. Utter heaven.
Check availability
hotel Guide
Facilities
Seven room types, ranging from Classic to Grand Suite.
Interiors are light, cool and calm with just a hint of retro charm in the detailing, here a brass lamp and mirror, there an illustrated book of matches. Beds are designed with a deep sleep spell, a place to refresh. Bathrooms feature an eclectic display of Italian tiles, otherwise opulent interiors are on view in a heavyweight copy of Mondadori's Cabana.
A clay tennis court is shaded by green trees, the gym has a delicious view over the Gulf of Naples and their sea water pool is heated to a temperate 30 degrees.
What's the Story
It was, in fact, an ancient watchtower built between the 16th and 17th century by the Aragonese family, which however was never finished (fittingly the name "Mezzatorre" translates as "Half-Tower"). It was enlarged in the 18th century by the dukes of Rancidello. In the 1930s, the tower was used as a pension until Luigi Patalano, a distinguished scholar, politician and poet, bought it. Founder of political and cultural magazines, he transformed the property into an active cultural cenacle. In the same park as Mezzatorre, Patalano also built "La Colombaia", a beautiful villa that was first owned by Baron Fassini, an aristocrat and bon viveur, and then, in the 1950s, by film director Luchino Visconti. In 2018, the Sciò family came across Mezzatorre, fell in love with it and in 2019, the Pellicano Hotels Group took over its management. Marie-Louise Sciò, CEO & Creative Director of the Group, injected her very own personality into every corner of the property – and transformed it into an exceptional Italian abode that fits right into the Pellicano world.
Wellness & Spa
Discover the ancient allure of Ischia's thermal waters, renowned since ancient times for their healing properties. From the Euboeans settlers to the Greeks and Romans, these hot springs have been cherished for their ability to restore spirit and body. Enriched with sulfur, iodine, chlorine, iron, and potassium, our mineral-rich waters offer therapeutic benefits for respiratory diseases, arthritis, and dermatitis.
At the Spa, their expert team will guide you through an ideal spa routine and recommend personalized beauty treatments.
Wine & Dine
The bay-side Ristorante & Bar La Baia is shaded in giant palm fronds, Bar La Torre is a neat quisibeve tented beneath striped tapering pennans, reminiscent of medieval jousts, a mix of Mezzatorre's soul, sea and history.
Dresscode
Budget
Rates from EUR 688 per night.
Local Guide
Location & Setting
Ischia has always been attractive for its wild beauty, healing thermal springs and excellent vineyard. A 29-squaremile island of parched tufa and bougainvillea, also commonly known as Isola Verde for its extremely fertile soils. Just off the Amalfi coast, Ischia is Capri's more mysterious and eclectic sister, one of Italy's best-kept secrets.
Explore the Island
Enjoy the island like a true local. Exclusively for Mezzatorre clients, FORADAY - the leading specialist in creating unique experiences in Ischia - has crafted ad hoc experiences that tells the story of the territory through the eyes of professional experts.

Visit nearby towns, see the 700 BC treasure of Nestor's Cup and join jazz nights in a garden cafe. Lacco Ameno is a place to stroll by the sea, enjoy an aperitif, admire the bay's centrepiece 'funghi' rock, eroded by time. The Greeks first landed here bringing vines and wine, they left behind a trove of pottery, which can be seen in the museum beneath the Church of Santa Restituta.

The greatest treasure is the 700BC Nestor's Cup, on view at Villa Arbusto museum, former home of the 1950's film magnate, Angelo Rizzoli. The cup bears a three-line inscription which is one of the oldest known example of writing in the Greek alphabet, it promises "...the one who drinks form this cup will suddenly fall in love with Aphrodite and her beautiful crown".

Forio is a charming town by the sea, home to the pretty Chiesa del Soccorso and lined with shops and eateries, with a lively evening atmosphere. It is also home to the renowned botanical garden La Mortella.

St Angelo is traditionally a fishing town, on the south side of the island. It has a typical Mediterranean feel, with white washed facades, and many restaurants and cafes by the port.

Ischia town is an energetic evening scene, drop into the Americano café for live jazz in the gardens. If it's morning try their speciality diminutive cappuccino. Via Roma has all the boutiques, great ice cream is at Cicco, pick up a cone and make an evening passeggiata towards the majestic Aragonese Castle

In the 5th century the castle was a safe haven for more than 2000 Ischian families fleeing pirates, it became a residence for 12th century Norman noblemen, reaching its greatest splendour in 15th century under Alfonso of Aragon. He began a renaissance, attracting brilliant minds to share art and ideas, even Michelangelo came.
When to Go
How to Get There
By Air: Fly into Naples Airport. From there, take a taxi to Naples Molo Beverello port, from where ferries depart to Ischia island. (1h)
Check availability
Mezzatorre Hotel & Thermal Spa