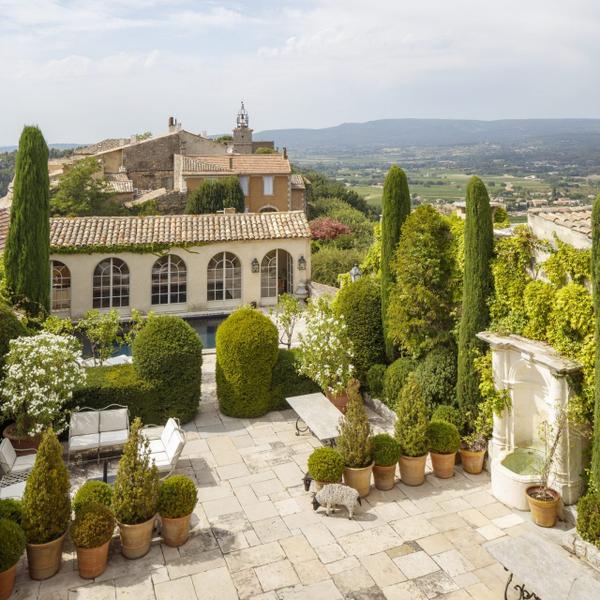 Ménerbes, Provence, France
L'Hôtel Particulier de Tingry
In the heart of the Luberon and 45 minutes from Avignon, the village of Ménerbes is perched on the rocky overhangs dominating the Cavalon planes. It is at the top of this beautiful artists' village that the elegant 18th century edifice known as Hôtel de Tingry stands. In this enchanting setting, propitious to getaway and rest, residents will be captivated by the superb architecture and the breathtaking view. They will also have access to all temporary art shows as it is also an art gallery that welcomes artists occasionally.
Check availability
hotel Guide
Facilities
The architecture looks like an ancient Italian palazzo with its huge volumes and its majestic stone stairway.
The very spacious suites are composed of a private bathroom and a spacious bedroom.
Beautiful poolside.
Bikes can be rented.
What's the Story
Hôtel de Tingry was built in the 17th century, by one of the most powerful and influential families of Avignon, Joseph Balthazard des Laurents from Piedmont. Tingry became his secondary residence. His descendant, Eléonor Pulchérie des Laurents, married Charles Montmorency-Luxembourg, prince of Tingry, thus giving his name to the mansion. The lush environment with its proximity to the vineyards, the exceptional countryside of Luberon, and the picturesque village of Ménerbes were all reasons for the area to be an aristocratic holiday spot. Later and for thirteen years, Hôtel de Tingry, became the private residence of Madame Nancy Negley, a rich American and patron of the arts. When her neighbor, Dora Maar, died, Nancy bought her house wishing to preserve the artists memory, and later turned it into a residency for artists. Since 2019, Hotel de Tingry has been classified as a Historical Monument. The architecture of this home is exceptional: it has a very beautiful porch and its courtyard was, in the past paved with pebble stones from the Durance river.
Wine & Dine
No dinner option but meals (brekfast) are taken together on the outside terrace or in the pool house. In winter, meals can be taken in the huge dining room or better yet, next to the warmth of the monumental fireplace that resembles those often found in old castles. For dinner, check out our recommended restaurants in the Local Guide.
There is a small grocery store in the village that offers delicious homemade individual meals, Le Panier de Jade.
Dresscode
Budget
Rates from EUR 350 per night including breakfast.
Local Guide
Location & Setting
The village of Ménerbes is home to painters, comedians, sculptors, musicians and other artists that have been coming for a long time, the house is marked with a strong artistic spirit. It might even inspire you to unknown creativity!

Between Gordes and Bonnieux, this charming Bed & Breakfast is an oasis of tranquility but also the perfect stopping point for visits to the surrounding regions. As soon as you go through the doors you feel yourself being transported into an atmosphere of intense tranquility and well-being.

The Luberon vineyards are very close to Ménerbes, and in less than an hour towards the North, you are in the Vallée-du-Rhone. For a real treat into French gastronomy, the region is gorging with excellent restaurants such as Eric Fréchon (Domaine De Fontenille), Piège (La Bastide de Gordes) and Edouard Loubet in Bonnieux.
Don't Miss
Visit the neighboring villages, each more charming than the other. Even if Gordes is better known, we suggest you get away from the crowds and visit Oppède-le-Vieux, Bonnieux, Lourmarin and Saint-Rémy de Provence.
Visit the great antique markets in L'Isle-sur-la-Sorgue (Sundays only).
Where to Eat
Don't miss tea time at Ozet, just down below the house. For lunches and dinners, book Chez Bruno or at Bistrot Le 5, slightly more expensive.
More restaurants in Where to Eat In Provence.
When to Go
Our favorite months are June & September.
How to Get There
By Air: The nearest airports are: Avignon Caumont (35 min), and Marseille (1 1/4h).
By train: Avignon train station (50 mins by car), served by the TGV and the Eurostar.
Check availability
L'Hôtel Particulier de Tingry