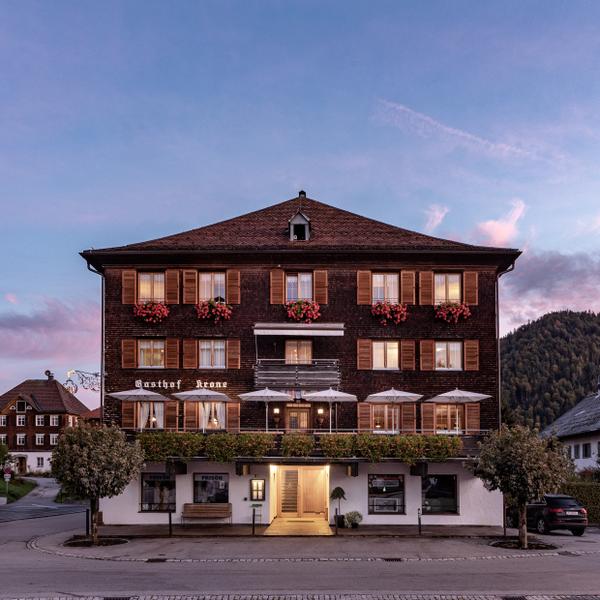 Hittisau, Bregenzerwald, Austria
Hotel Gasthof Krone
For more than 180 years, the Krone has overlooked the village square, seemingly unchanged, stoical, and serene. Helene Nussbaumer-Natter und Dietmar Nussbaumer, the Krone family's third generation, runs the hotel on the principles of their ancestors and in the same spirit — but with their modern signature.
Check availability
hotel Guide
Facilities
Rooms feature high-quality Bregenzerwald craftwork and discreetly contemporary design.
You can choose from three different room categories.
All are equipped with desk, telephone, broadband, safe, hi-fi, and also a TV on request.
The Bregenzerwald Rooms are available in two sizes: 23 and 28 sqm. All have balconies.
The Werkraum rooms are available in three sizes: 25, 33, and 40 sqm
Bathrooms of both categories have granite flooring, underfloor heating, bath, and/or shower.
Our Favourite
The warm embrace of the sauna, or the chimney-corner room with its small but select library, or the garden ... all gently invite you to relax, just let go, switch off - recharge your batteries, take time out, drop out of sight. The Krone's terrace is a good place to keep an eye on what's happening in Hittisau village life.
Wine & Dine
Fresh, regionally-inspired cuisine is served in the three cozy 'Stuben'. Gault Millau has honored the Krone with 15 points.
Dresscode
Budget
Rates start at EUR 210 per night including half board.
Local Guide
Summer Activities
Mountain biking, hiking (numerous paths and trails), climbing.
Golfing: 18 hole-course is 10 minutes away;
Winter Activites
Cross-country skiing, winter walking, skiing, and ski touring in the magical landscape of the Bregenzerwald.
Good to Know
Golfers and anglers, vintage car enthusiasts and the merely curious, family clans and individualists, fresh air fiends, and indoor types, gourmets and the thrifty, ramblers and cyclists – they have all enjoyed the Krone, and returned.
How to Get There
Fly to Friedrichshafen (60 km), Altenrhein (45 km), Zürich (140 km) or Allgäu (100 km).
By train: The hotel offers a pick-up service from the main station in Bregenz or Oberstaufen (Germany).
Check availability
Hotel Gasthof Krone