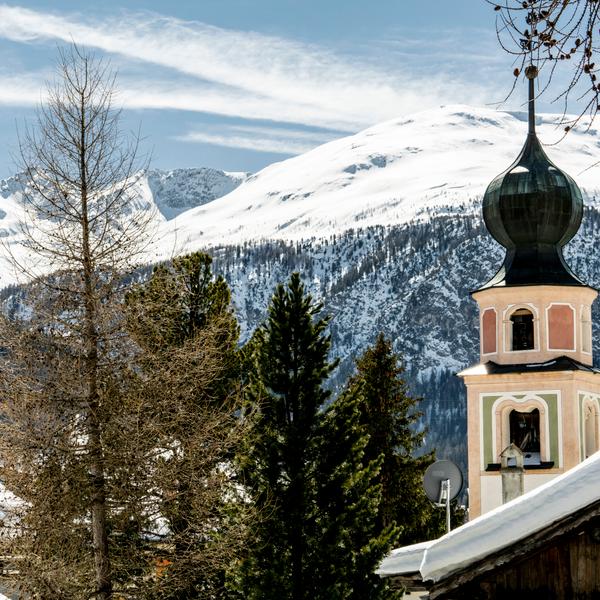 Madulain, Engadin, Switzerland
Chesa Colani
Chesa Colani is nestled in the ancient village of Madulain (one of the most beautiful in Switzerland), the smallest in the Upper Engadine region with just 170 inhabitants. Not far from St. Moritz, it sits within a historic, decorated 17thcentury building that was built for a noble family and evolved into a hotel in 1990, run with love by Andrea and his family. You will be warmly welcomed by his team and immediately soothed by your surroundings—the peace of the mountains and the quiet of the village.
Check availability
hotel Guide
Facilities
Each of the 13 rooms and suites has its own character— we love the pine-clad Colani Suite with its soapstone bathroom, bathtub for post-slope soaks, and living space with views of the surrounding peaks and the Inn River.
Wellness & Spa
After a day exploring the great Engadine Valley, whether on skis or foot, return to Chesa Colani for some spa time; a sauna, chromotherapy hammam, salt wall, and jacuzzi are all on tap to soothe any achy limbs.
Wine & Dine
The Michelin-starred Stuva restaurant is a traditional, intimate space that is bonded to the land and inspired by nature's rhythms—you can expect lichen, dandelion, and mushrooms to find their way into dishes in April, May, and September, alongside thyme and other Alpine herbs. Think venison in a salt and hay crust, with Cardarelli mushrooms, poached pear wine, and Madulain potatoes. * There is also a bistro for more casual evenings.
Dresscode
Budget
Rates start at CHF 230 per night.
Local Guide
Where to Eat and What to See
Arts, Crafts and Design in St Moritz
Super Mountain Market is opening it's doors for the 6th time this summer at the historic Forum Paracelsus in St. Moritz Bad. Apart from changing art exhibitions, SMM is showcasing new designers and craftsmen during July 7th – September 2nd while offering snacks, drinks and locally roasted coffee at Super Mountain Coffee at SMM. Opening hours: daily from 10:00 – 19:00. Plazza Paracelsus 2, St Moritz.
Winter Activities
Besides the fantastic skiing at Corviglia, Piz Nair, Legal, and Diavolezza, other winter activities await you such as sledding, snowshoeing, curling, and tobogganing — including the famous Cresta Run.
When to Go
Winter season lasts from early December until April. Summer season starts in June and ends in late September.
How to Get There
By air: Zurich Airport (207 km) is 4 hours by train and a little less than 3 hours by car. Alternatively Milan Malpensa (180 km) and 3 hours by car. Engadin Airport Samedan 8 km) is just around the corner, but only for private jets or chartered planes.
Arrive by train; Madulain has its own tiny station and the UNESCO World Heritage route from Chur to Samedan through the Albula Valley is stunning.
Check availability
Chesa Colani