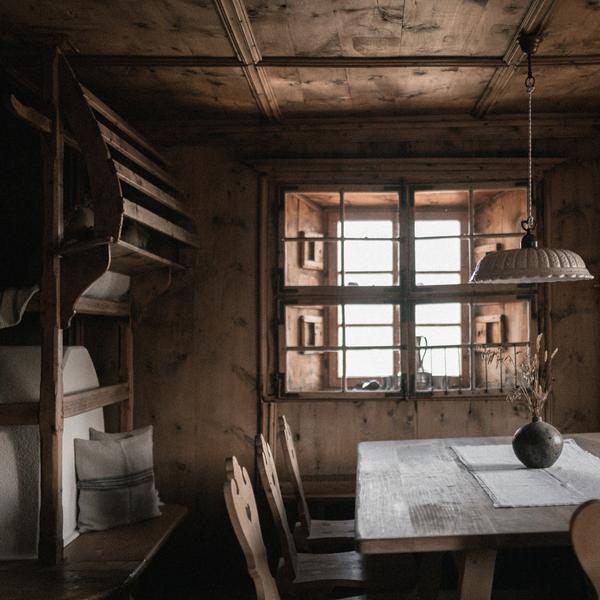 Villandro, South Tyrol, Italy
Felder Alpin
Felder Alpin is a South Tyrolean farmhouse from the 11th century. Elaborately restored and equipped at 1,200 meters, with a fabulous view of the Dolomites. Inside, well thought-out coziness between urban chic down to the smallest detail and alpine obstinacy.
Check availability
house Guide
The Space
Tradition and modernity unconventionally meet in the house. Antique rustic furniture with finds from Bali, and Italian designer lamps set spotlights on the barrel vault. The tried and tested flirts with the unfamiliar, solid stone walls with wood and glass. Materials and colors, structures, and shapes transform, merge, and create lively free spaces. Ready to embrace you with their cozy yet inspiring atmosphere.
3 double rooms, divisible as single beds, equipped with "Simmons" box spring beds and "Pierre Frey" fabrics.
3 bathrooms made of local natural stone with shower and toilet, designed by "Antonio Lupi", bathroom fittings by "Dornbracht".
Living room with a library with a selection of books about hiking, architecture, and art, flat screen TV, Marshall Box for your playlists, lounge area with horsehair mattresses from Marrakech.
Original farmhouse parlor with wood paneling, farmhouse stove, and stove bench.
Smoked kitchen with barrel vault "Schwarze Kuchl", equipped with wood-gas stove "De Manincor", Teppanyaki griddle, refrigerator, dishwasher.
Ski room with heated shoe warmers, washing machine, and dryer.
Wine cellar.
Spa
Finnish panorama sauna for max. 8 people with relaxation room.
Outside the Lodge
Forest, mountain stream, and meadow (a total of 4 hectares all around) with panoramic loungers by "Luis Trenker", barbecue area.
Traditional hay camp for yoga sessions.
Stable and animal enclosure with sheep and goats.
Getting Around
Garage with parking spaces.
Land Rover Defender Jeep, Pinzgauer (9-seater), a snowmobile with trailer (with driver on request).
Vespas, e-bikes for hire.
Registered helipad.
What's the Story
The Felderhof has its origins in the 11th century and is located 1,200 meters on a southern slope of the Villanderer Alm. The listed ensemble includes a residential building and a barn. Elements of the main house are more than 500 years old, and a traditional and rare thatched roof characterizes the barn (a total of five such thatched roofs are still in South Tyrol today). After buying the farm, Tom Erlacher lived in the main house for almost ten years without electricity or heating. In 2015 he commissioned the architecture firm Mikolajcak Architects to build a private apartment, which was embedded in the rear part of the property and was mostly built underground. In 2021, the main house, today's Felder Alpin Lodge, was renovated under the direction of the architects' office Perathoner from Selva.
Budget
Rates start at EUR 2700 per night for 6 people + local city tax of EUR 3 per person and night.
Local Guide
Nearby Restaurants
Some of the best restaurants in the world are in South Tyrol. Crowned with stars or awarded with toques. Others are simply the best at what they offer. Alpine cuisine, Törggele dishes, or pizza from the wood-fired oven. Claudia will recommend favorite restaurants within a short drive from the lodge.
Private Concierge
Claudia, your host and responsible for the management of the Felder Alpin Lodge, is there for you even before the trip.
Helicopter Flights
The staff can organize helicopter transfers with Elikos helicopter service. You can land directly at the lodge.
How to Get There
South Tyrol is easily accessible by car, train, and plane. The latter is made possible by the Bolzano regional airport, 40 km. Other nearby international airports are:
Innsbruck Kranebitten Airport – 104 km.
Verona Valerio Catullo Airport – 181 km.
Venice Marco Polo Airport – 300 km.
Milan Malpensa Airport and Milan Linate Airport – 350 km and 300 km.