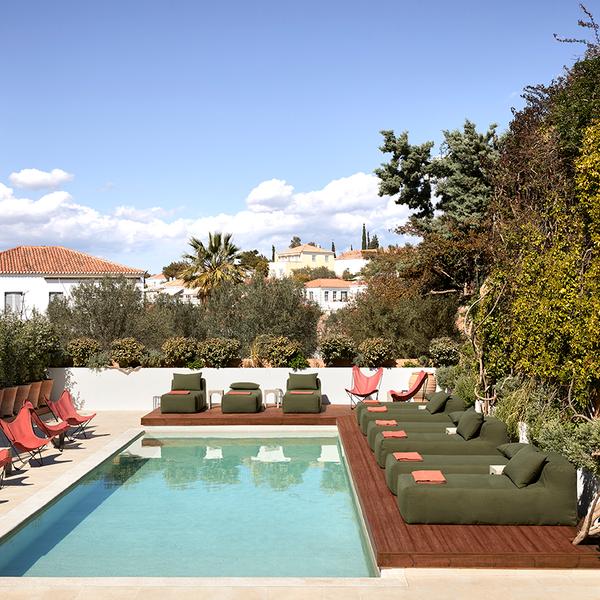 Spetses Island, Greece
Yayaki Spetses
Yayaki is your new destination for a romantic summer getaway, under the auspices of the Greek stars, gods, and goddesses on the island of Spetses.
Check availability
hotel Guide
Facilities
With fifteen bedrooms, a pool, and a yoga studio, Yayaki Spetses offers the perfect size for guests to benefit from personalized and human service and smaller attentions that make the difference during a stay.
The property is divided into two buildings: the main one where most of the bedrooms are located, and a small detached house with one of our suites and the library and reception. The pool is in the middle.
The fifteen bedrooms are elegant, modern, and simply decorated. Like in a big family summer home, each one has its personality.
Traditional, elegant, and blissful interior design in collaboration with the French couple, Maison Hand.
Yoga Studio, fully equipped with yoga mats, bricks, straps, and cushions, for yoga and meditation.
Massages, Pilates or fitness. Local therapists can be arranged.
Our Favourite
At Yayaki, you can choose, every day, depending on your mood, your activities, and your taste, between two breakfast menus and a delicious selection of add-ons, including fresh fruit juices, Greek yoghurt, honey and homemade jams, homemade granola, a bread basket, sweets and pies of the day… The breakfast can be served, under the shade of the pergola and the friendly vibe of the garden, or in the intimacy of the room, upon request.
Wine & Dine
Yayaki is the first Vegetarian hotel on Spetses Island offering vegan options. Breakfast is homemade daily with organic, local, and seasonal products.
Sustainable efforts
In love with their island, Hannah and Karl are determined to preserve its beauty. Simple daily gestures, elaboration of menus, maintenance and equipment of rooms, choice of suppliers; everything counts on an island where water is brought in every day by boat from the mainland!
What's the Story
Greece and Spetses, have always had a special place in Hannah and Karl's hearts. After living fast-paced lives in London and Paris with their daughter and cat, they chose to reconnect with the magical Mediterranean region, inherited from their family's origins. Both share a similar vision of hospitality. More than great service. Where each traveller is looked after as a family. This is a unique concept on the island of Spetses, halfway between a luxury boutique hotel and a family guest house.
Dresscode
Budget
Rates start at EUR. 270 per night.
Local Guide
Location & Setting
Yayaki Spetses is perfectly located, in between the mountain and the Aegean sea, five minutes walk away from Dapia, the village, and the first beach, Agios Mama.
What to Do
Discover the island with a ride in the Yayaki Piaggio! This is the perfect way to understand the island's organization from the old harbor to Kaiki Beach and discover some beautiful spots and unique scenery above Kouzounos bay.
Imagine chasing the sunset on a Greek island, aboard a Kaiki, the traditional fishing boat, with a glass of wine, a selection of homemade, seasonal Greek mezze, and a beautiful soundtrack.
The shops in the city center are numerous and varied. Whether it is major brands or local designers, you will find jewellery, sunglasses, bathing suits, clothes and sports equipment as well as decorative objects.
Good to Know
What is unique about this island is its walking-friendly atmosphere: no car, no big road, no touring bus, and no airport around. All travel here is by foot, horse-carriage, bikes small motorbikes or quad bikes, etc.
How to Get There
Fly into Athens. You can get to Spetses by ferry from the main ports Piraeus and Porto Cheli. The ferry trip duration from Piraeus to Spetses ranges from about 2-3 hours, depending on the type of vessel and ferry route.
Check availability
Yayaki Spetses