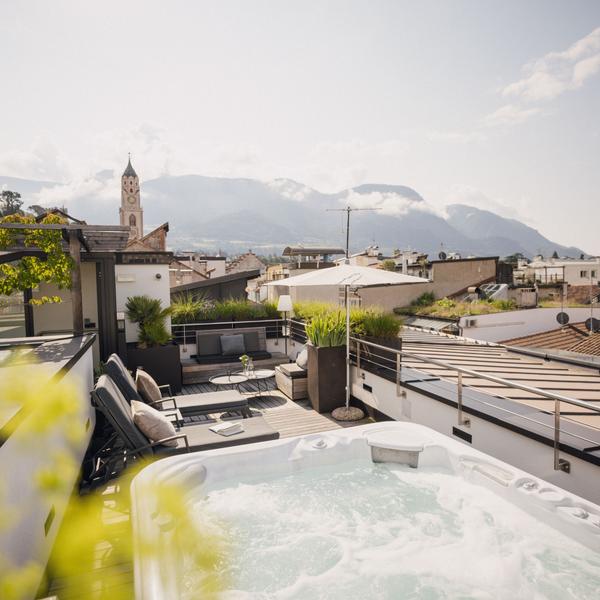 Merano, South Tyrol, Italy
Guesthouse SuiteSeven
The Guesthouse Suite Seven is located in the historic arcades, right in the heart of Merano. Featuring twelve cozy suites, this little retreat combines a city feeling with relaxation and is the perfect place for those who enjoy South Tyrol's capital.
Check availability
hotel Guide
Facilities
Each room is individually decorated and offer an interplay of tradition and modernity, the same elements that make Merano so special. In the historic building with medieval stone walls, you will find ultra-modern elements by Italian and international designers, who have created stunning accents with their very personal touch.
Wellness & Spa
One of the highlights of Suite Seven is the rooftop terrace with whirlpool for moments of relaxation with that special someone. Here, above the roofs of Merano, you can indulge in the soothing element of water and enjoy the surrounding panorama, while the streets below bustle with activity.
Wine & Dine
A rich breakfast buffet is served in the morning.

No dinner option, take a look at our local recommendations in the local guide.
Dress code
Budget
Rates start at EUR 206 per night and include a rich breakfast buffet, service, VAT, and the local Tourist Tax.
Local Guide
Location & Setting
With its central location, the guesthouse is an excellent starting point for activities in the area. Shopping lovers have found heaven here, as well as gourmets. The special mixture of traditional South Tyrolean cuisine and Mediterranean influences make Merano a holiday destination for all the senses.
Things to See
The Trauttmansdorff Castle botanical gardens are a must-visit during your stay.
Explore the little alleys with their elegant, traditional shops in the historic old town.
Visit the delicatessen and butcher of G. Siebenförcher offering selected meat and sausage specialties, hams, and traditional raw, smoked Speck.
The Civic Theatre – named after PucciniMeran's Civic Theatre, right in the center of the town, is a true architectural jewel.
Activities
If you're interested in any sporting - you'll find activities year around - hiking, mountain biking, skiing, and snowshoeing. Merano is unique in every aspect and perfect for everyone who loves freedom and the great outdoors.

For more leisurely activities, Merano is great to stroll around and discover more about the area's culture and local finds.
How to Get There
Fly into Innsbruck or Verona, both a 2h car ride away. The smaller airport of Bolzano is now connected to some European cities with SkyAlps and only a 30-minute drive to the hotel.
By train: Merano train station is a 15 minutes walk.
Check availability
Guesthouse SuiteSeven