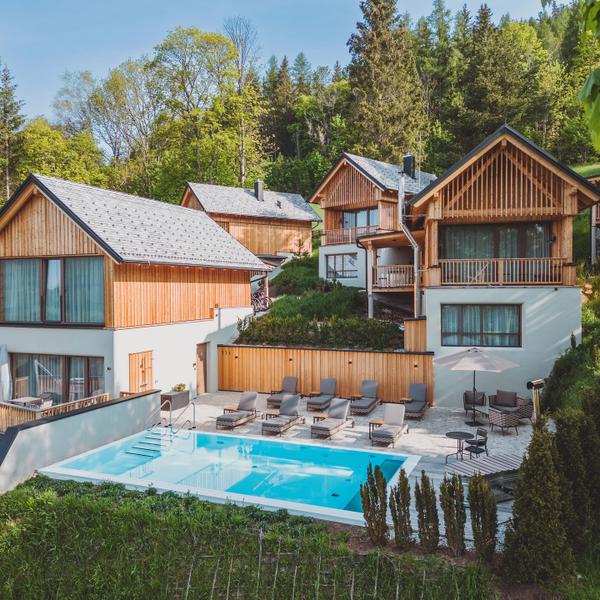 Mariazell, Styria, Austria
Montestyria Chalet Hotel Mariazell
Opened in September 2022, the Montestyria Chalet Hotel is located in the authentic mountain village of Mariazell in Styria. The owners Helga and Peter Lindmoser built six luxurious chalets and two junior suites with a pool, sauna, and a private bathing jetty that is only accessible for guests on the nearby Erlaufsee. The mountain village, magically embedded in nature, offers newly developed views of the majestic mountain landscape and the Mariazell Basilica.
Check availability
house Guide
Facilities
The chalets each offer space for up to four people on three floors with a total of 100m2. Each chalet has a large living and dining area with a wood-burning stove, a high-quality kitchen, two spacious bedrooms with a bathroom, a wellness area with a Finnish sauna, and toilets on the lower and upper floors. A west-facing sundown terrace with a covered dining area invites you to eat together outdoors and have romantic sunsets, while a south-facing, covered, and heatable time-out balcony allows for magnificent panoramic views of the vastness of the mountains and a view of the basilica from above.
The 35 square meter junior suites for up to two people each have a south-facing, spacious living and sleeping area with a panoramic window. You have direct access to the heated, south-facing pool with a magnificent view of the mountains.
Selection of tea, chai latte, and hot chocolate specialties.
SMEG fully automatic with fresh beans from ESPRESSOMOBIL in the chalet.
There are parking spaces with e-car charging stations.
Fiber optic WiFi.
Welcome Treats
A well-chilled, high-quality bottle of Grüner Veltliner and a welcome snack await guests in the lobby on the day of arrival.
What's the Story?
"We wanted to create places that offer complete relaxation. Places of power that strengthen our guests and where they can perceive nature with all their senses," says hostess Helga Lindmoser. "We firmly believe that people are increasingly longing for these "magic moments" and for tried and tested places that recharge their energy stores. Mariazellerland has been known for this for centuries. It was against this background that we conceived Montestyria," says the developer and Visionary Peter Lindmoser.
Wine & Dine
Breakfast: with fruit rich in vitamins, regional ham and cheese specialties, jam from Staud's, Styrian honey, farmer's bread from the Naglhofer farm shop, wonderful Styrian fruit juices from Obsthof Singer, heavenly muesli from Verival, exquisite coffee beans from Espressomobil and selected tea from Demmers Teehaus.
Cakes & coffee or tea are included and are served every afternoon in their Café.
On request, the chalet reception will be happy to reserve a table for dinner in the nearby Brauhaus Mariazell.
Dresscode
Budget
Rates start at EUR. 480 per night for chalets (up to 4 people) and Junior Suites at EUR. 195 per night (up to 2 people).
Local Guide
Worth Getting out of Bed for
What to Do
Mariazellerland is rich in sights, relaxation options, and adventure offers. Montestyria is located at the foot of the Mariazeller Bürgeralpe near numerous hiking and cycling routes. The Bürgeralpe is a children's paradise with a variety of attractions such as Holzknechtland, Biberwasser, BikeAlps & WakeAlps, and a Wald8erBahn.

The nearby Ötschergräben - the Grand Canyon of Austria - enchants with wild gorges, bizarre rock formations, and thundering waterfalls. Formed by the elemental forces of crystal-clear mountain streams, this unique natural experience lies at the foot of the Ötscher and is a paradise for hikers and photographers.

The Mariazell Railway runs climate-friendly and comfortably from St. Pölten through the picturesque Pielachtal and the Ötscher-Tormäuer Nature Park to Mariazellerland. The trip on Austria's longest narrow-gauge railway is varied and impressive: there are 19 viaducts and 21 tunnels on the 84-kilometer route.

Those who prefer to approach Mariazell step by step should do so via the Via Sacra, the famous pilgrimage route through the foothills of the Alps. But step by step you can also get to Mariazell. The 111 km long Traisental cycle path is one of the most popular cycle routes in Austria.
The Hotel's Private Lake
The hotel's swimming jetty at the Erlaufsee invites you to swim and relax. The crystal-clear mountain lake in the middle of Mariazellerland has a water temperature of up to 24 degrees in summer.
When to Go
The summer months are just glorious here. The Winter season is short but very picturesque.
How to Get There
Vienna is a 2h drive, Graz is 1 1/2h.
There is a dedicated airfield in Mariazell for helicopters and sports planes.
Check availability
Montestyria Chalet Hotel Mariazell